Pet microchip reader iso scanner all chips: mid01c - West Sussex
Thursday, 17 February 2011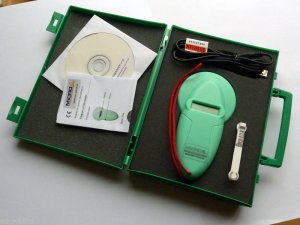 Item details
City:
West Sussex, England
Contacts

Richard Fry

+44 1444 831500
Item description
MID01C Advanced Multi-chip Scanner with FREE test chip in key ring tag in a handy carry case with a cable to connect to PC & CD for downloading.
READS: FDXA, FDXB, ISO, BACK HOME, HOME AGAIN, TIRIS HDX AND MANY OTHER CHIPS
This unique microchip reader will read almost all chips in the world market including chips used to identify sheep (ISO 11784/11785), the Pet Travel Scheme and Horse Passport Chips
Technical Specs:
L: 15cm X W: 8cm X H: 3.5cm.
Weight: 140grms.
Power: 9volt battery.(supplied
Display: Can be set in one of 5 languages, English, French, Spanish, Italian, Portuguese, German or Polish.
Reads Tags: ISO FDXB, FDXA (not AVID encrypted), Q5, EM4102, TIRIS HDX. (virtually all microchips (transponders) in the world.
Read distance: FDXB 8-10cm. FDXA 5-6cm. HDX (ear tag) 20-25cm.
Memory: stores up to 800 chip numbers.
Storage: -20C to +60C
Usage: -20C to +50C
Supplied with USB cable for computer connection.